We are extending our product range!
Posted by: Antonín Lukáš Added: 7. 11. 2016 11:32:46 Views count: 1543
07 November 2016
Finally, we have set agreements with new manufacturers and we will be listing many new products, where you can anticipate to get again, the best value for your money.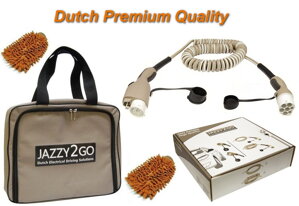 Let me introduce Premium cables Jazzy2Go. The highest quality we have found on the market, in a gift box, bundled with carrybag and microfibre cleaning gloves. All connectors are filled with imflammable resin, which is boosting the internal resistance between pins to prevent short-circuit even in the most complicated enviroment.
If you want to make a serious gift to somebody driving EV car, here it is!