Shipping and product return
FREE SHIPPING to (most of European Union)* for purchase of 150€!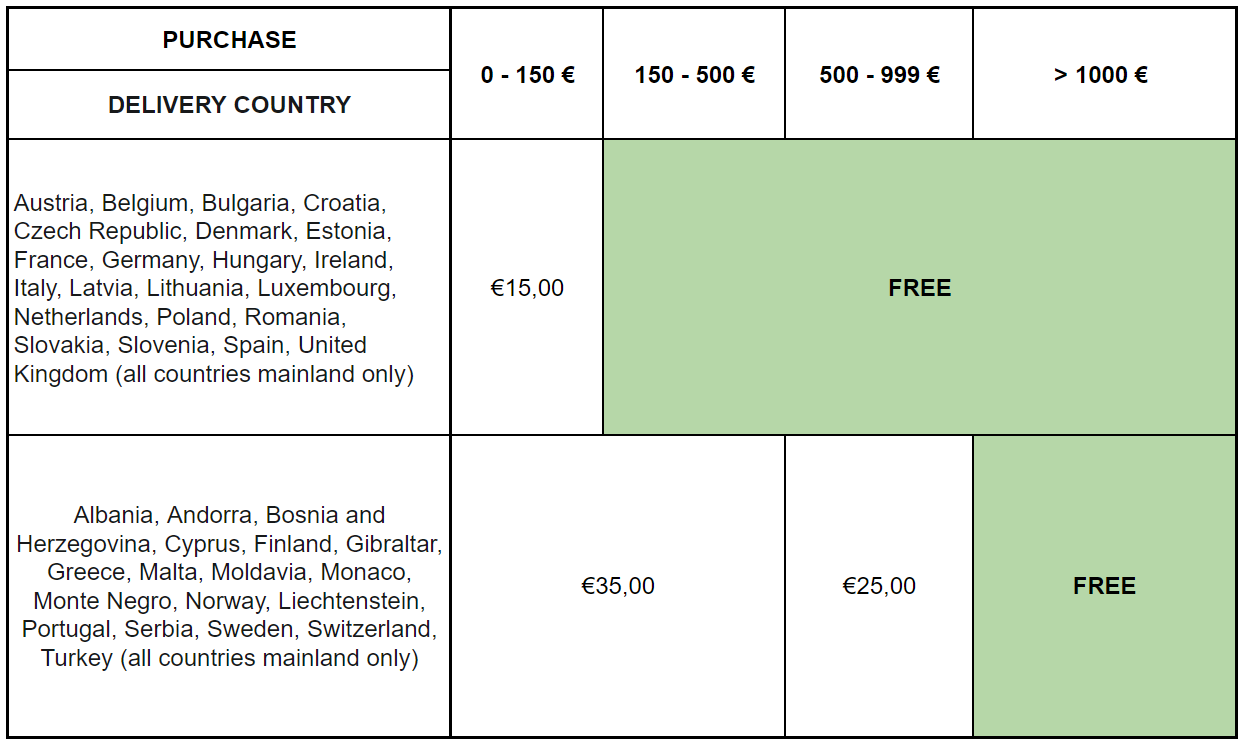 DELIVERY & RETURNING OF YOUR PRODUCT OR FULL REFUND
All listed countries (Austria, Belgium, Bulgaria, Croatia, Czech Republic, Denmark, Estonia, France, Germany, Hungary, Ireland, Italy, Latvia, Lithuania, Luxembourg, Netherlands, Poland, Romania, Slovakia, Slovenia, Spain and United Kingdom) are mostly made by courier service GLS https://gls-group.eu/CZ/en/home, PPL https://www.ppl.cz/ or  DPD https://www.dpd.com/
For the rest of Europe, Islands, non-EU and others countries we are choosing delivery provider according to their conditions of delivery service as quality, speed and price from companies PPL, DHL, GLS, UPS, DHL, DPD, Geis or any other suitable delivery services. Cost of delivery service always on request.
You can also pick up the purchased item in our office at address: Stupkova 952 / 18 (office K115, ground floor, 779 00 Olomouc, Czech Republic)
There is maximum weight limit per box up 40kg for all provided destination.
The charges for our delivery:
EV Expert offer a varity of delivery charges, depending on the service you require and location. Simply enter your delivery location into the shopping basket for available delivery charges to your location. 
We shall be under no liability whatsoever for any delay in delivery or a failure to deliver or the consequence resulting from such delay or failure that is caused by an event outside or your failure to provide us with adequate delivery instructions or any other instructions that are relevant to the supply of the Goods. We will let you know if we become aware of an unexpected delay and will arrange a new delivery date with you.
If you fail to take delivery of your order on the agreed date, then we will store the Goods until delivery takes place and may charge you a reasonable sum to cover any redelivery expenses incurred by us.
In the rare event that we are prevented or fail to deliver the Goods, our liability (and your sole and exclusive remedy) for such non-delivery will be limited to us replacing the Goods within a reasonable time or refunding the price paid by you in respect of such Goods.
It is your responsibility to check that the Goods delivered are in full working order before they are included in any other product or part or are sold onto a third party. We make no warranty or representation that the Goods are made for any particular purpose and are under no liability whatsoever if the Goods purchased by you do not fit the purposes for which you purchased them for.
Each delivery of the Goods shall be accompanied by a delivery note detailing the order specification.
Cancelling an order, Returning of your product or full refund
Cancel of purchase agreement and return products are accepted to a maximum of fourteen (14) days from acceptation of the product by purchaser. The product must be returned with no sign of damages and defects and complete within fourteen (14) days after the canceling of purchase agreementat the seller's address: EVExpert s.r.o.,  Stupkova 952/18, New Street, 779 00 Olomouc at own expense of the purchaser.
If the goods are delivered to countries outside the EU, customs, tax and other necessary fees are paid by the customer.
When seller receive proucts with no sign of damage and failure, then arrange full return to purchaser account within fourteen (14) days from receive cancel of order. For more information, refer to the Terms and Conditions.