Where to charge your EV in Europe?
When first thinking about an electric vehicle, many people still feel range anxiety. They are afraid that there aren't enough charging stations in Europe and that they wouldn't manage to get where they need to. But that is no longer true in Europe. All densely populated areas and main roads are already fairly well equipped. The leader is by far and large Netherlands with 37 000 charging stations! Followed by Germany with 27 000 and France with almost 25 000. (Though beware that exact numbers vary depending on the source of information.)
Maps and apps
Nearby the residence and on the most common routes, everyone has "their" charging stations well mapped. In the case of a new journey, many interesting applications are prepared to help you find new charging stations.
When choosing the favourite app to find the next charging station, base your decision on the maturity of the community of users and whether they really share new information. That way you will avoid getting to a station with your plug out of order. It's the community that makes sure that all the information is up-to-date. 
Plugshare.com
So far the most popular website and app is plugshare.com, which shows more than 300 000 charging stations around the whole world. 
Except for the bare location of each charging station, users can leave comments, evaluations or photographs.  You can filter the stations based on your criteria, for example you can choose if you want an AC or DC charging station, or you can choose a station with specified output. And mainly you want to be certain that upon arrival the charging station will have the plug that you need. 

A very nice option is "Plan a Trip", where it is possible to plan everything in advance according to your electric car, its range and the type of connector. Furthermore, it is possible to share this route with google maps or directly with a smartphone.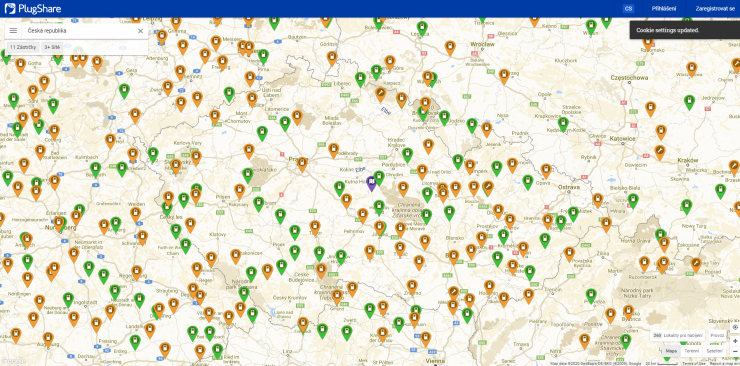 Czech republic on plugshare.com. Author: plugshare.com
Openchargemap.org
Openchargemap offers an interactive map with filters, as well as overviews of individual stations and even countries, so it is possible to explore what the network of charging stations looks like in a given destination before you go there. It is an Open Data page, so anyone can contribute and register new charging stations.
The most interesting thing about OpenChargeMap is that it is managed and developed by volunteers whose goal is to create a single place that gathers all the information about charging stations and thus avoids the emergence of a number of competing applications.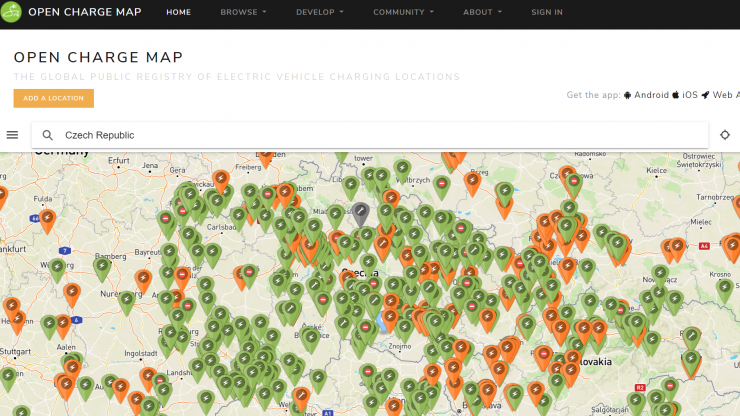 Czech Republic on OpenChargeMap.org. Author: OpenChargeMap.org
Tesla
As always, Tesla has something special. So it's not a surprise that it has special charging stations for its cars. The list or map can be found directly on their website. In addition, it is possible to filter for SuperCharger stations, which are currently the fastest charging stations. In the Czech Republic, they are located in Prague, Brno, on the D1 motorway at the Pelhřimov exit and in Olomouc.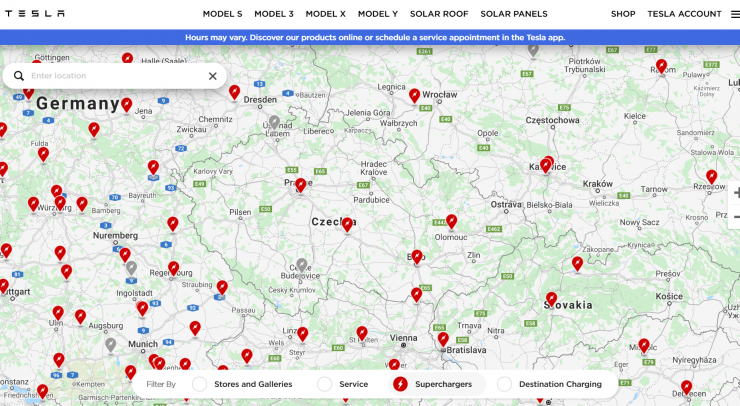 Czech Republic on Tesla map. Author: tesla.com
Future development
Currently there are more than 150 thousand charging stations in Europe. By the year 2030, at least 2,8  million more charging stations should be built. And the manufacturers don't stop lobbying for greater help from the member states.
Following the ever more strict environmental laws and emphasis on the use of electric energy, the infrastructure soon will not be of any problem for an entry to the world of electric vehicles.