EVELINE MAX II is a new generation of portable charger, which now has a practical display showing charging current, voltage at each phase, temperature and set charging current limit. Charging current can be set to 6A, 8A, 10A, 13A and 16A. The current setting is visible on the display and can be easily changed. When holding the button, the total charged kWhs are displayed.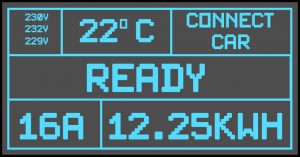 The EVELINE Max II portable charger is suitable for cars that have access to CEE-32A industrial sockets and can also charge from a CEE-16A socket or from a home socket using an adapter. The maximum charging power is 22kW.
The emphasis is mainly on top security. The most important safety feature is the built-in Type B RCD and the RCD (FI) A-EV residual current device with 6mA DC detection, which ensures immediate interruption in the event of incorrect charging. Switching elements are designed for more than 150% of the rated continuous load. In addition, the cable's control electronics perform diagnostics each time they are connected, and if something is wrong, the problem is indicated on the display by the appropriate error code.
The charger is protected against mechanical damage and contamination, IP44 protection when connected and when using caps and IP65 protection when disconnecting connectors, which means that it is 100% waterproof and resistant to all weather conditions.
You will receive a protective bag and two useful CEE / schuko adapter as a gift with each Eveline Max II 22kW smart charger. It is also possible to order a wall bracket for easier storage.
The manual can be downloaded here.
Technical Specification
Type 2 plug - (mennekes) (electric car)
socket type CEE-16A (mains)
IP44 and IP65 protection
maximum current: 16A
maximum voltage: 250V / 400V (3 phases)
maximum charging power: 11kW
operating temperature range: -40 ° C to 50 ° C
Display: 0,96″ OLED
charger size: 180x80x50mm
cable length: 5 and 8 meters (german ladekabel PHOENIX CONTACT)
color black with white, red and silver elements
Included Walther adapter SCHUKO - 16A CEE 5-pin | 1 phase | 16A | 3,6kW | 0,5m
Included Walther adapter CEE 16A to 32A 5-pin | 16A | 1-3 phases | 3,6 - 11kW | 0,5m
Security and certificates
All charging cables are tested to ensure their safety. The protective cover is IP44 certified. The connector in the disconnected state is protected at the IP65 level. The Eveline Max II charger meets the international standards IEC 61851-1 and IEC 62196-2 16-32A. It is certified with CE and TUV for use in the European Union.
The smart charger has a standard warranty of 36 months from 2023.
If you are hesitant about whether this connector is suitable for your car, you can search for it in our database, where you will also find the type of connector, or you can contact us at any time.