COMPARISON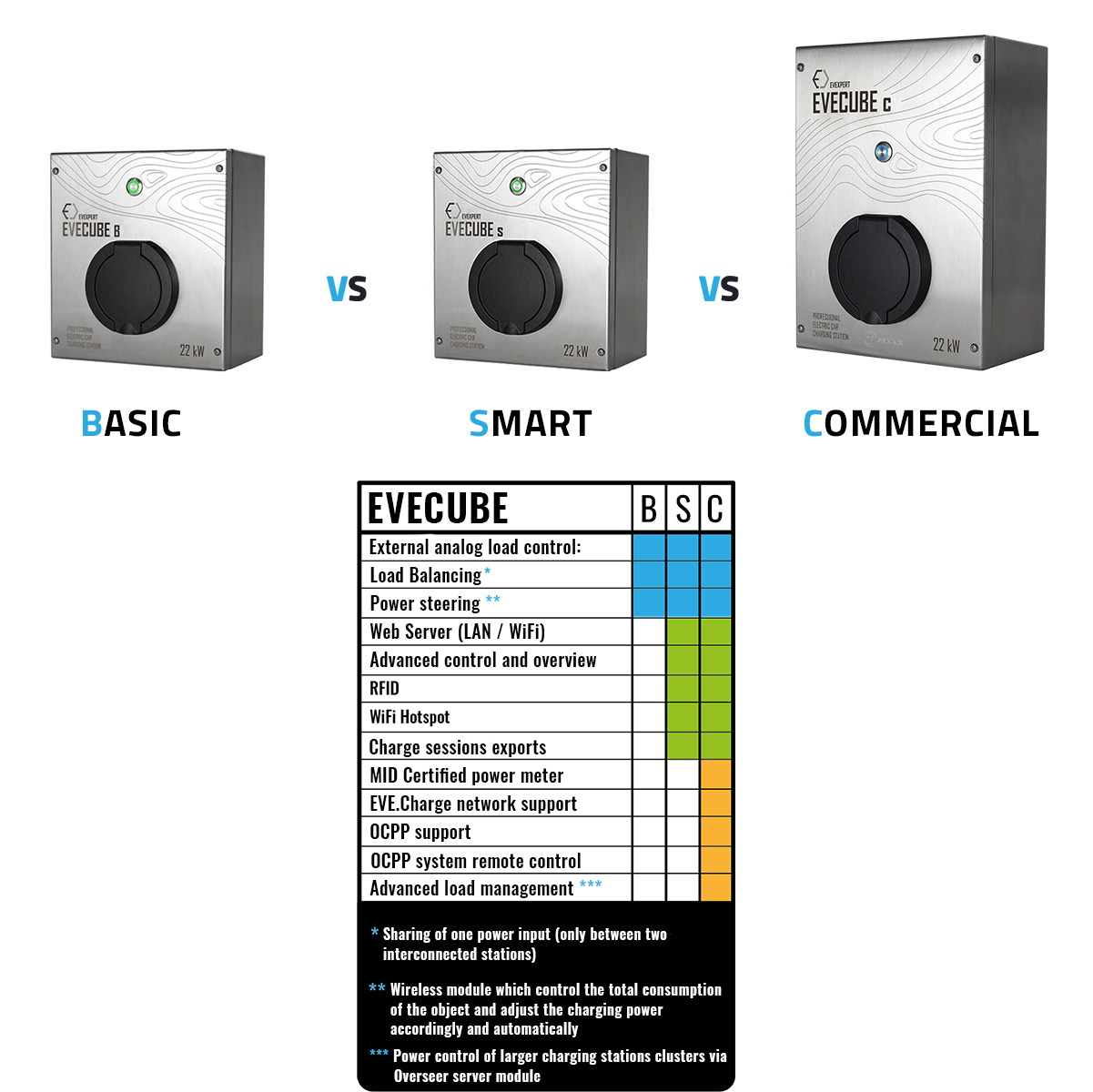 Charging stations EVECUBE C and 2C in detail
An exceptional charging station made of stainless steel, which matches the charging needs of your electric car with the energy needs of the building.
Karel Míšek, ComElectric

How to choose a charging station?
Socket vs integrated cable

Thanks to the socket, the charging station is universal and can charge a car with any type of connector. The charging station with integrated cable is more comfortable for users, especially in cold or rainy weather.

Type 1 vs Type 2

Older electric cars such as CITROEN - C-Zero or FIAT - 500e have a type 1 connector. The type 2 connector is the current European standard and all newer cars are equipped with it.

Offline authorization

If multiple users use the charging station, it is possible to authorize them using an RFID reader and chips. This allows you to control and see how much is consuming each user.

Wireless power management module

The wireless power management module is suitable for anyone who wants to manage their station remotely, be able to authorize charging, or limit the charging current.
What happens after purchasing EVECUBE C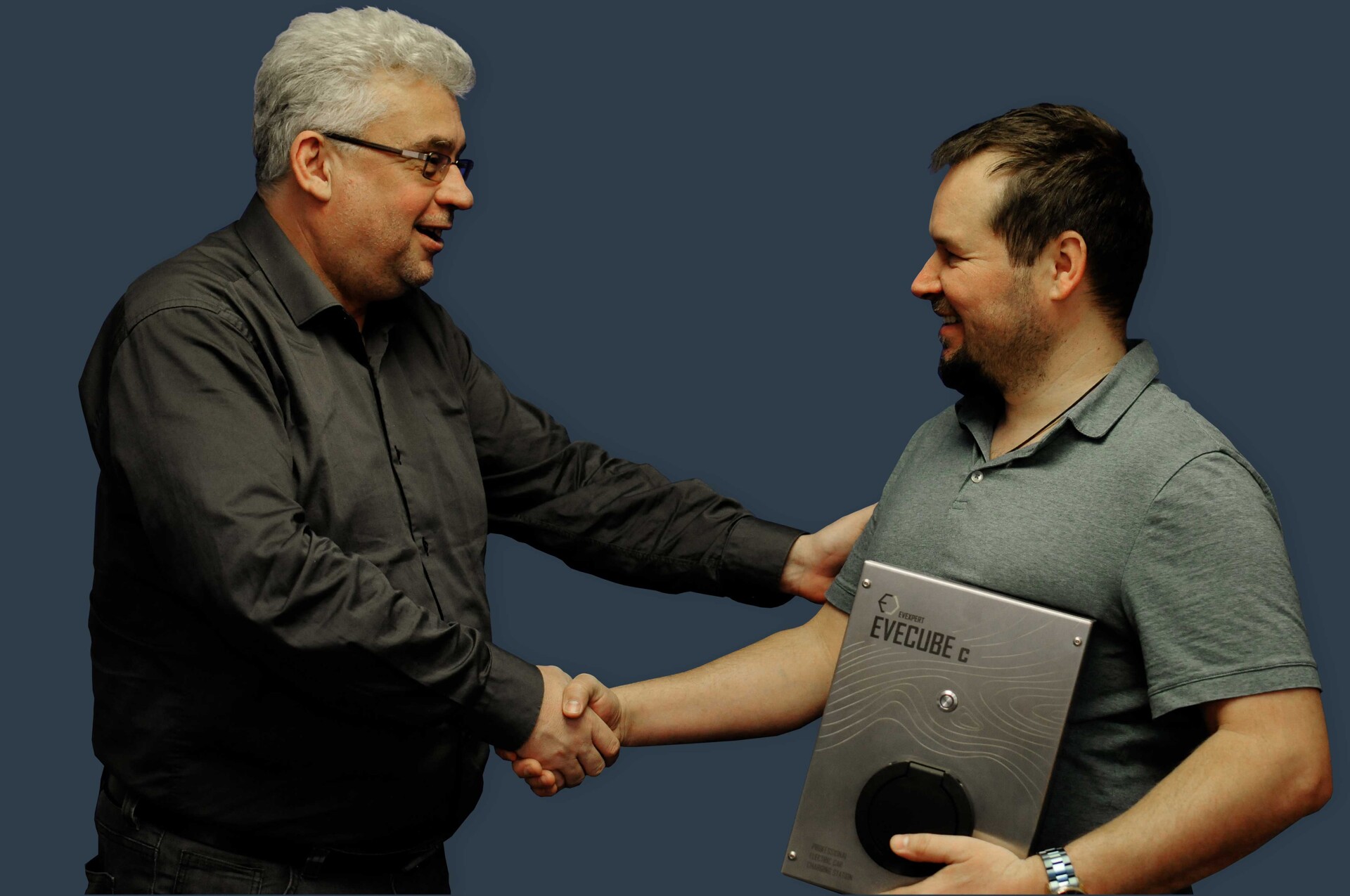 Purchase of EVECUBE C
EVECUBE C is a very popular charger, the waiting time for their production is approximately 14 days.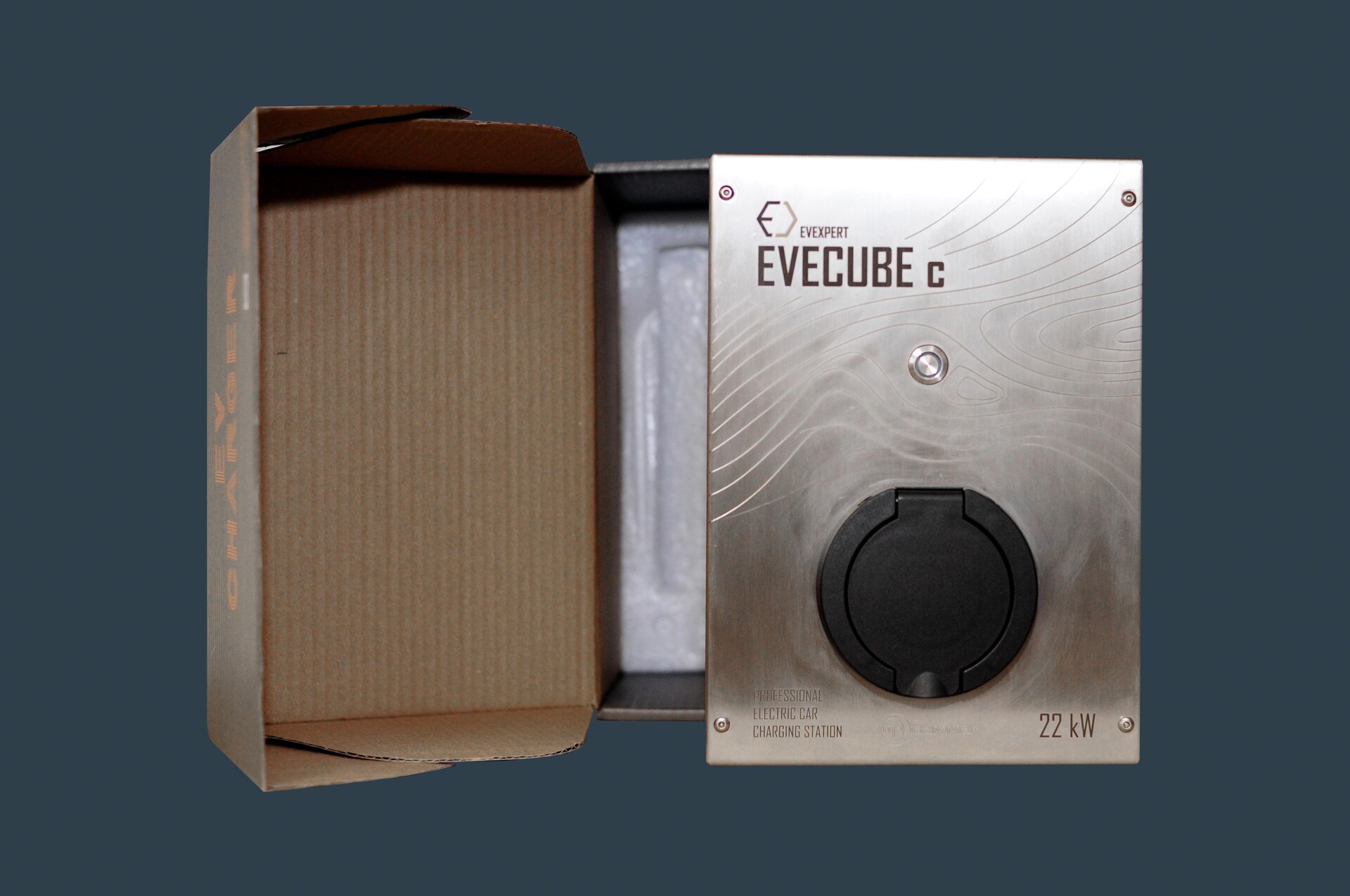 Receiving EVECUBE C
Orders are fulfilled in the order in which they were ordered. EVECUBE C are sent immediately after production and individual testing.
Flexible delivery: If you need to adjust the delivery time and time, let us know.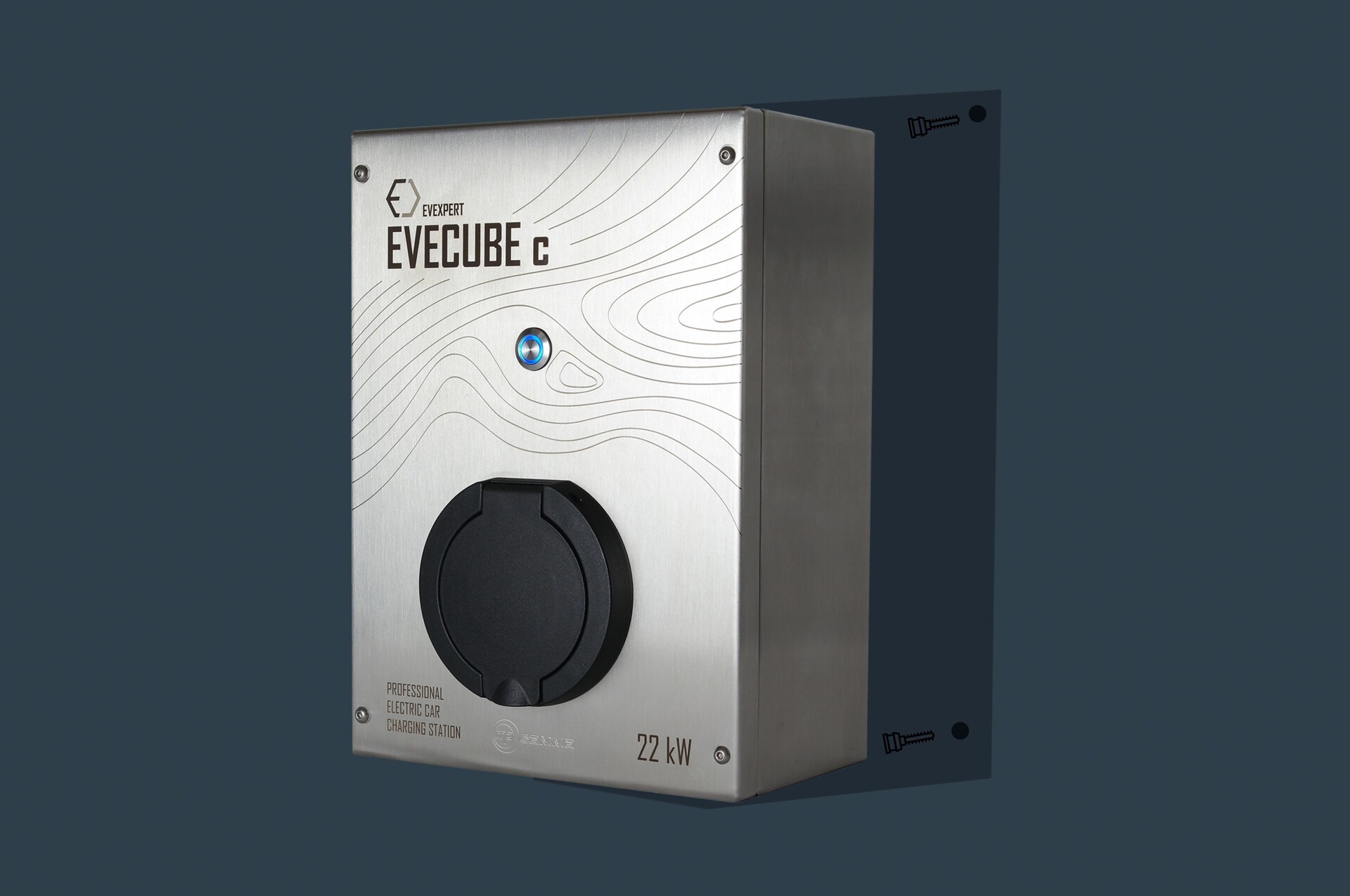 Installation
The charging station must be installed by a qualified person. If you are interested, we will be happy to arrange the installation for you.
Frequently Asked Questions
Payment
1. To which countries is shipping free?
Shipping is free to most EU countries for orders over 150 EUR.
Postage to selected countries costs 12 - 29 EUR, depending on the amount of the order.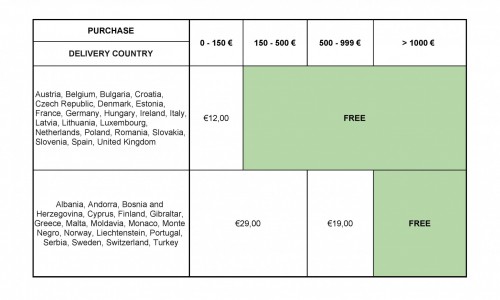 2. How long does delivery take?
After ordering the EVECUBE C charging station, the delivery time is 14 days.
3. Is the price including VAT, customs duties and other fees?
Yes, all prices are final.
1. Can I cancel a pre-order?
Yes, canceling a pre-order before you pay is no problem.
2. What if something goes wrong with EVECUBE C?
All charging stations are covered by the standard warranty period, or it is possible to order an extended warranty. During this time, it is possible to complain about any defect according to the warranty conditions. Our customer support will promptly answer any issues that you might possibly have. Don't hesitate to contact us.
3. How quickly can I expect a response from customer support?
EV EXPERT customer support is available from 9 a.m. to 5 p.m. on weekdays. In more complicated cases, our technicians can help solve the problem outside of normal business hours. If the problem is urgent, we recommend calling our infoline +420 722 689 252.
1. Can EVECUBE C communicate with other charging stations?
All EVECUBE C charging stations can communicate using the OCPP 1.6 (Open Charge Point Protocol) protocol. It is an application protocol for communication between charging stations and the central management system or network of charging stations.
2. Can I control the charging station remotely via a mobile application?
Yes, all EVECUBE C charging stations are equipped with a module for remote management and can be controlled via Webserver, a web application that allows remote authorization, as well as an overview of charging on individual ports, and the possibility of charging settings.
3. Can the EVECUBE C charging station match the charging requirements of the building with the charging of the electric car?
EVECUBE C charging stations are equipped with a module enabling load balancing, which ensures that the electric car is always charged with the highest possible current, and at the same time takes into account the energy needs of the building. If the consumption of a building increases (eg by switching on another appliance), the power charged by the electric car will decrease. Conversely, if a device is turned off, the charging power will increase.